Mechanesis: Ashcan Edition
A downloadable game
This game is temporarily more expensive! Learn more
Mechanesis is the story of sentient Robots fighting a war that isn't theirs. Humanity has expanded throughout the stars and all of their technological advancement has brought them to a new age of warfare. Piloted giant robots have been a staple on the modern battlefield for the better part of a century, but the latest advancement has made this a deadly change of affairs. Now, unmanned artificially intelligent robots are being fielded to turn the tide of the war.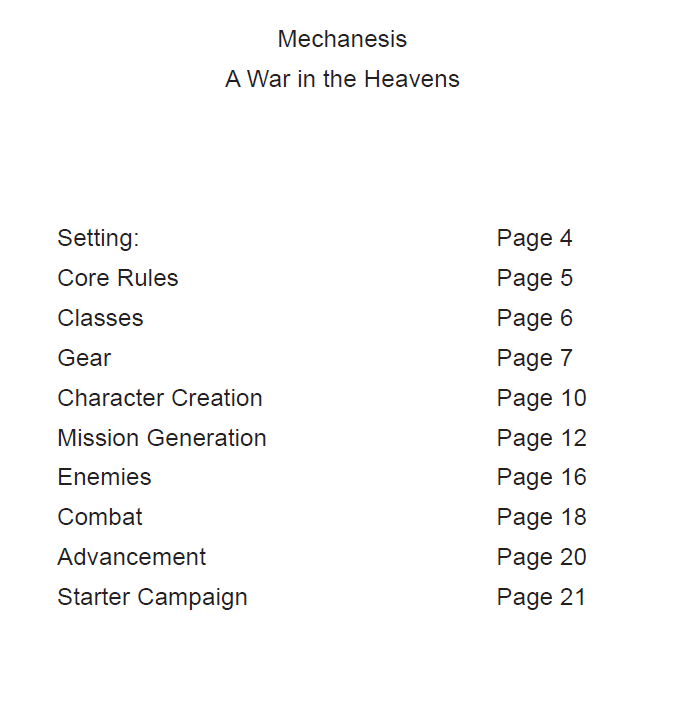 Using a Dice pool system with three stats, you have your choice of Four Classes, two dozen powers, and the system includes a procedural mission generation system.
Also included is an introduction to a campaign, as well as the Turning Point, when the Exo-Frames turn on the EarthGov and fight for the colonies wishing for their own freedom.
Author's Note: This is an Ashcan Edition. It does not feature pretty art; it does not feature a professionally laid out book. It is, however, a fully functional Roleplaying Game using the LUMEN system.
At 500 copies sold, we'll get a specialized cover and a professional layout.
at 750 copies sold, we'll get two pieces of interior art done.
at 1,000 copies sold, we'll add two more pieces of interior art.
at 1,500 copies sold, we'll produce a full length campaign supplement to get you started in this experience.
at 5,000 copies sold, we'll figure out how to do Print on Demand so you can get copies in your hands instead of your tablets and computers

Purchase
This game is temporarily more expensive! Learn more
In order to download this game you must purchase it at or above the minimum price of $8.58 USD. You will get access to the following files:
Character Sheet.pdf
38 kB
Mechanesis Cover Variant.pdf
140 kB